In our summer 2020 statement in support of the Black Lives Matter movement we committed to building a focus on health and cultural inequalities into our structures. We committed to ensuring our Board, employees, freelance contractors, membership and stakeholder groups are representative in terms of ethnicity, as well as Disability, socioeconomic background, sexuality, age and all recognised protected characteristics. We committed to amplifying Black voices and the voices of people of diverse heritages through our website, bulletin and social media.
We are now moving from focusing on inequality to building equity. See this page for a helpful explanation of the difference between equity and equality, from Global Citizen, but essentially "Equality means each individual or group of people is given the same resources or opportunities. Equity recognizes that each person has different circumstances and allocates the exact resources and opportunities needed to reach an equal outcome" (Milken Institute School of Public Health at Washington University).
[updated April 2021] We are taking the following steps to becoming a more equitable organisation. This is will be an ongoing process of gathering information, making changes, and assessing how we work – across both our structures and our programme. This work is essential to our vision, mission and values as an organisation.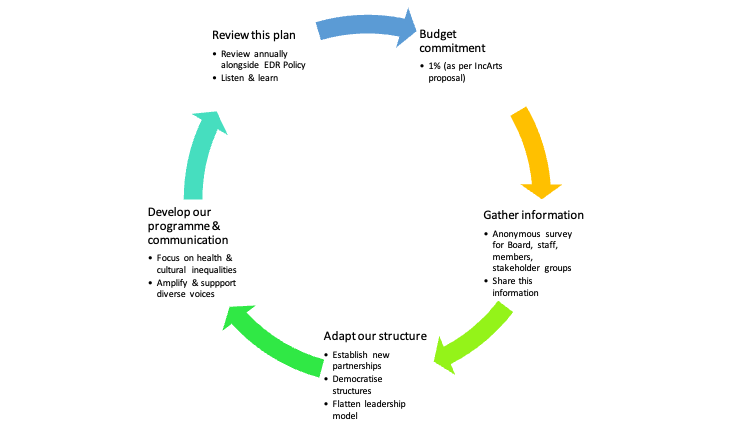 We are not a funder, but as an alliance and a sector support organisation we have also found the Association of Charitable Foundations model of nine pillars a useful way of thinking about the steps we should take:
invests time and resources in understanding and defining diversity, equity and inclusion

produces and reviews strategies that will implement DEI [diversity, equality & inclusion] practices

collects, tracks and publishes DEI data on its own practices and performance

has a diverse trustee board and staff team, both in terms of demographics and experience

reflects and implements DEI practices in its funding activities

expresses its DEI commitment, policies and practices publicly

makes itself accountable to those it serves and supports

uses its own power to advocate for and advance DEI practices

collaborates with others to promote and implement DEI practices
You can read our Equality, Diversity & Representation Policy here (August 2020) and our updated Equality Action Plan here.