In our recent statement in support of the Black Lives Matter movement we committed to building a focus on health and cultural inequalities into our structures. We committed to ensuring our Board, employees, freelance contractors, membership and stakeholder groups are representative in terms of ethnicity, as well as Disability, socioeconomic background, sexuality, age and all recognised protected characteristics. We committed to amplifying Black voices and the voices of ethnic minority communities through our website, bulletin and social media.
We are taking the following steps to becoming a more equal alliance. This is will be an ongoing process of gathering information, making changes, and assessing how we work – across both our structures and our programme. This work is essential to our vision, mission and values as an organisation.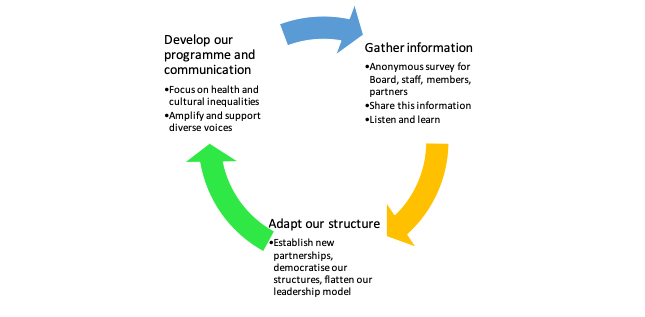 We are not a funder, but as an alliance and a sector support organisation we have also found the Association of Charitable Foundations model of nine pillars a useful way of thinking about the steps we should take:
invests time and resources in understanding and defining diversity, equity and inclusion

produces and reviews strategies that will implement DEI [diversity, equality & inclusion] practices

collects, tracks and publishes DEI data on its own practices and performance

has a diverse trustee board and staff team, both in terms of demographics and experience

reflects and implements DEI practices in its funding activities

expresses its DEI commitment, policies and practices publicly

makes itself accountable to those it serves and supports

uses its own power to advocate for and advance DEI practices

collaborates with others to promote and implement DEI practices
You can read our Equality, Diversity & Representation Policy here, which includes an Equal Opportunities Action Plan.
Action Plan
Step 1: Gather information
In August-September 2020 we conducted a survey of our
Members

Strategic Alliance Members

Regional Champions

Board and Staff
The results of this survey can be found here, along with comparative national data where we have been able to source it, and a brief commentary. Key areas of divergence with national figures are highlighted.
We note that we have not included pregnancy in this survey and commit to rectifying this in future surveys.
To try to learn more about what is and isn't working, we have also partnered with Arts & Health South West on two webinars focused on pathways into the culture, health and wellbeing workforce, and a consideration of how language might impact accessibility and relevance.
Step 2: Adapt our structure
Establish new partnerships
From late 2020 we will be working with our Strategic Alliance Members group to build a new and simpler MOU between members and CHWA, and to bring in new members whose focus is overtly cultural and/or health inequalities.
Flatten leadership models
We are a very small organisation in terms of staff resource, with only two part-time members of staff. We anticipate that in (pending sufficient funds) either or both of these may become shared roles. We will also be appointing a co-chair of the Board of Directors in the next six months.
Democratise structures
Our regional champions are now subject to an election process upon stepping down. This process was conducted successfully in the West Midlands region (May/June 2020) and will be used as a template for future elections. One key element is to broaden the regions membership prior to election processes to ensure we have reached out beyond our existing networks - in particular to organisations focusing on health and cultural in/equalities.
We have been supporting the LENS group - for people with their own experience of the impact of culture/creativity on their own health and wellbeing - across 2020, to become an indepedent CIC. The LENS are committed to remaining a critical friend to the Culture, Health & Wellbeing Alliance.
Honoraria
We are committed to providing honoraria for LENS members to attend quarterly Steering Group meetings as they become an independent entity. We hope to extend this committment to all freelancers within our Strategic Alliance Members and Regional Champions groups in 2021.
Step 3: Develop our programme and communication
Communication
Since our website launched in 2018 we have featured blogs that foreground the voice of lived experience.
Further to a proposal by IncArts we are committing 1% of our overall budget to supporting this process. In the first instance this small amount of funding will be used to support organisations focused on inequalities to write blogs and features for our site and bulletin.
We are already committed to platforming other voices where possible. Of the opportunities we are offered to speak, at least 50% are either co-presented or passed to LENS members, regional champions, or others outside our stakeholder groups from underrepresented groups.
Step 4: Gathering information again
We will conduct a survey in August/September 2021 to understand any impacts that the above action plan has had on our members and stakeholder groups, and at that point plan with the Board and Staff to further adapt our structure and develop our programme and communication.