With the funding and support of Derby City Council, CHWA has commissioned a local artist Stevie Davies to create the CHWA 2021 Awards.
Following the success of CHWA 2020 Awards Artist commission, with Derby-based artist/sculptor Elaine Lim Newton, and with the continued focus of the national conference being in the East Midlands, the alliance and Derby City Council Art Department joined forces to commission a new artist for the 2021 awards.  
Glass artist, Stevie Davies was selected by the panel, who were particularly intrigued by the interactive nature of her designs. Her artworks will be presented online as part of the CHWA 2021 Awards Ceremony, Friday 23 April, 2.30- 3.30pm. 
Stevie Davies
Running a thriving contemporary arts practice from her Derby city studio, Stevie specialises in using a variety of kiln fusing techniques to create each piece of wall art, sculpture or jewellery, alongside teaching individuals and groups at regular workshops.

Stevie seeks to engage and inspire others to explore their creativity, believing everyone needs an outlet to express themselves and her workshops and kits enable her to help others get creative with glass. Lockdown has reinforced Stevie's commitment to this and she has been so thankful for the connections made when posting out packs of materials and running virtual events.

A key theme running through each piece of her handmade artworks is exploring ways to slow down, encouraging everyone to take a closer look at their surroundings and to appreciate the little things in life.  Contemplating, reflecting...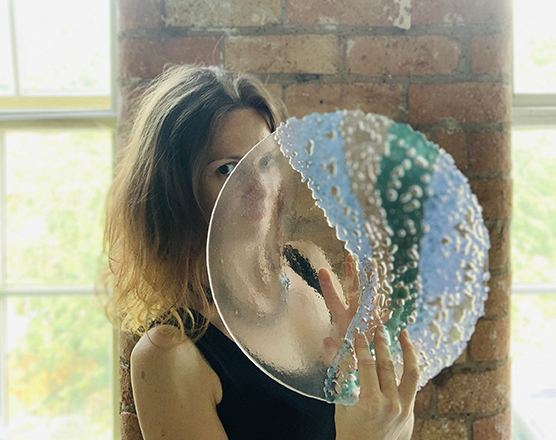 In response to being selected for this commission, Stevie shared,
"Being awarded this commission and having my proposal accepted is such a wonderful opportunity.  Dedicating time to design and create statement artworks using my signature style which help to celebrate the fantastic work being done by individuals and organisations within the Arts, Culture, Health and Wellbeing sectors.

An ongoing theme that runs throughout my arts practice, and an ethos I try to take through into all areas of my life, is the need to take time to appreciate the world around us.  Noticing textures and colours, often with a theme of Petrol Rainbows, the beautiful aesthetic qualities of a reaction which is essentially a form of pollution. I hope that my work can generate a dialogue around environmental issues"
The alliance would like to give a special thanks to Derby City Council Arts Department for their continued support.