Image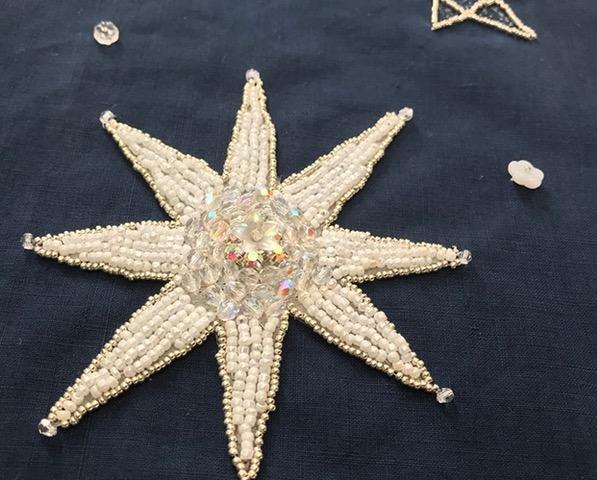 Margaret Giller, Necklace of Stars. Photo copyright Lois Blackburn
Arts Derbyshire
Arts Derbyshire is the strategic arts organisation for the county; its 100+ member organisations include arts organisations, local authorities and public bodies with a remit for the arts. Arts Derbyshire aims to increase participation in and access to the arts, providing training and development for artists and arts organisations, and act as a catalyst for arts development.
Necklace of Stars
Necklace of Stars is a project by Arts Derbyshire in partnership with artist duo arthur+martha, Derbyshire Home Library Service and Public Health. It was originally conceived (pre-pandemic) to engage isolated housebound people aged 65+ in rural Derbyshire through creative writing and embroidery workshops in their homes. In response to the impacts of Covid-19 the project was redesigned to work with people via phone and post. Participants were referred via the Home Library Service, Social Prescribing Link Workers and Derbyshire Emergency Response Unit.
Introduction and context
This is an exceptional time for artists to reflect on their work. Dr Daisy Fancourt describes the paradox of artists suffering terrible financial and career insecurity whilst their work proved fundamental to helping people cope with lockdowns – singing from balconies, painting rainbows, performances in urban streets and online workshops all helped with psychological coping and improved recovery time. In her words 'The arts are necessary, not just nice to have.'
Artist, researcher and Clore Fellow Nicola Naismith has been championing the role of freelance artists in the arts and health sector and raising awareness of their vulnerability to exhaustion, burnout, poverty and mental distress. Now more than ever we need to consider the wellbeing of the artists we work with.
We invited poet Phil Davenport to reflect on his experience as a creative professional working on the Necklace of Stars project during the pandemic.
Phil Davenport, Poetry by Phone Case Study
Loneliness is debilitating – and no-one else knows what it is like. People are stuck outside their own world and this is a way of reaching out.

Phil Davenport, comment during Team Evaluation Meeting
Phil makes poems with people using experimental approaches; he is completely alive to the possibility of surprise, chance, new ideas and over twenty years has explored many ways of working with people – yet he was taken by surprise and genuinely thrilled by the process of creating poems over the phone:
As it happens, making poems like this hit me with the force of a revelation. The depth of the encounters, emotional and artistic, was astonishing.

Phil Davenport, Poems over the Phone
Throughout the project Phil kept a project diary, documenting moments from his own and participants time together. Years of working creatively with vulnerable people gave Phil the experience to instinctively know when to encourage them to go deeper into a memory or idea - and when to pull back or change tack if there was a risk of opening up emotions that could not be contained within the session. Phil has a repertoire of tried and tested techniques to bring people back to safe ground introducing meaningful but lighter themes or focussing on the craft of poetry.
"X was very nervy today. I could almost see her quivering physically, as I listened to her shaking voice. But talking seems to bring some calm, the companionship of another person is steadying when she's lost her anchor to the world. I have encouraged her to talk about and write about some of these fears, as well as enjoying the distraction of writing about childhood adventures. It can help to write about the worries, put them down on paper and they sometimes don't swim about in your head so frantically. A long time talking, calm slowly descending."

Phil Davenport, Project Diary
"X was very jolly, as ever, yet underneath the jolliness is a deep concern. She is writing better poems, not being so chatty, opening up the areas that she's really interested in. As with the jolly persona, the poems are now putting aside their masks and being true. She's clearly enjoying playing about with the words, having fun, but there's a realisation that she can tie this to a deeper purpose, if she wishes. I emphasised that there's always a choice — how deep we go is a matter of how adventurous we're feeling at any given time and that we always need a reserve of extra energy to come back with."

Phil Davenport, Project Diary
It is clear that it was a truly collaborative process, with both parties working together to make sense of the strangeness of the world around them.
Writing is an opportunity for self-expression and validation. People really looked forward to the weekly calls and many said it boosted their self-esteem or self-worth. They were held accountable, and it felt like we were doing something useful together, building creative confidence and motivation.

Phil Davenport, comment during Team Evaluation Meeting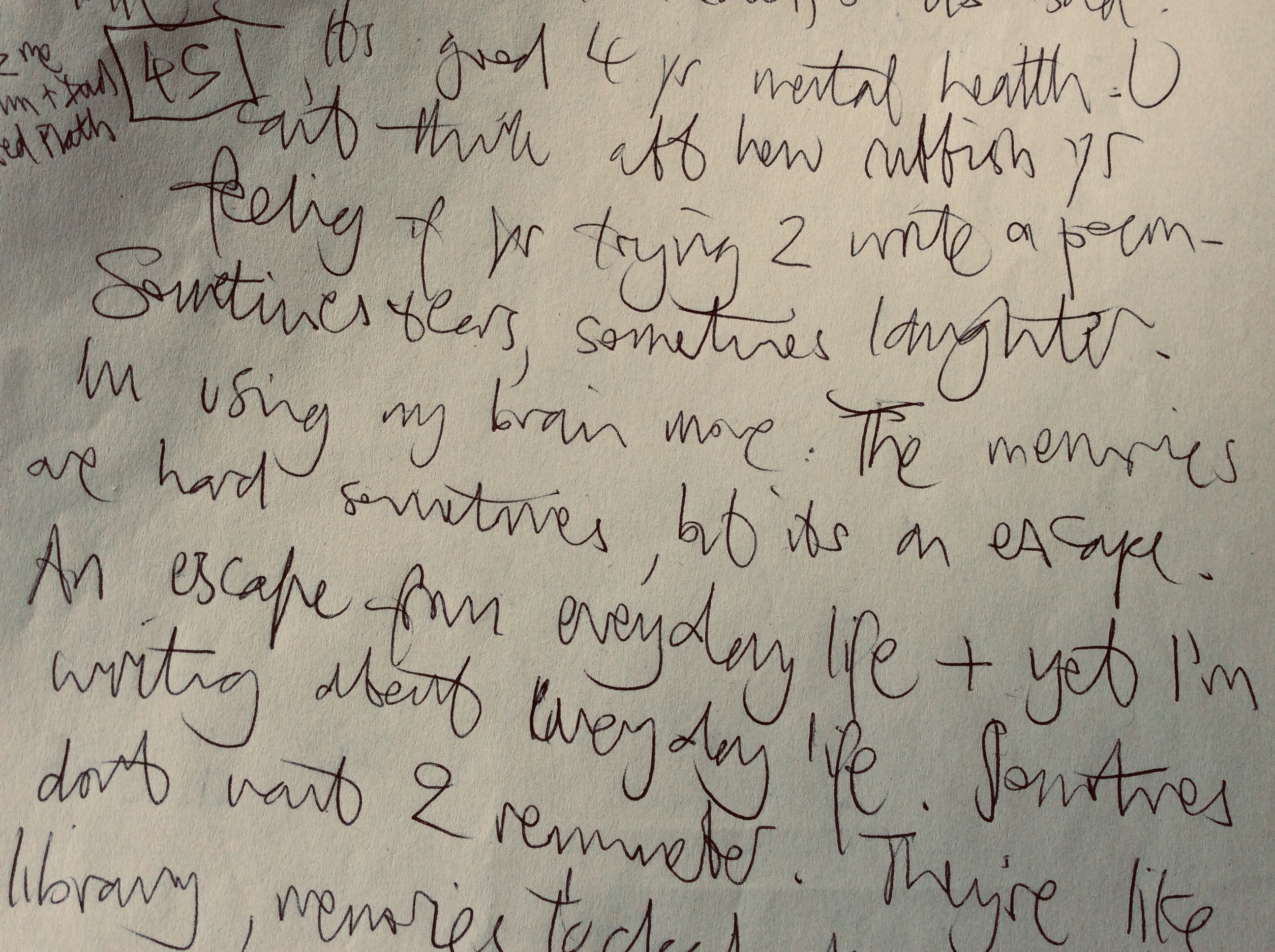 Phil was very aware that he was working in an undefined space between art and social care; a space where magic can happen, but also where sometimes danger sometimes lies and other support is needed. Phil was supported by Necklace of Stars Coordinator Sally Roberts to act on any safeguarding concerns, working with partners in the voluntary and statutory sector to provide practical emotional and physical support. Nevertheless, Phil felt a duty of care to the participants:
Human connection is the big gap that can't be bridged in these circumstances. And this applied to me too. In such a moment you can become a very important person in the participants' circle of emotional support and that brings responsibility and with it pressure. My remit was clearly a creative maker, but I felt very strongly — almost felt beholden — to give people the phone time they craved.

Phil Davenport, Poems over the Phone
In one instance Phil worked with a participant at the end of her life. In his project diary he documents 'X was sounding tired and fragile; with each call she seemed to diminish a little bit, become a little mistier'. Over many years he has worked with people at the edge of life and some who lost their lives to drugs, illness, suicide. He has developed techniques to take care of his own needs, but like most artists working in this field he does not have any ongoing formal support or training.
There have been many deaths, many breakdowns, many overdoses, great pain. To witness these things is sad but doesn't necessarily cause damage to me, providing the boundaries of my role are clear and I feel that what I'm doing is broadly helpful. Sometimes to simply be a distraction or light entertainment is a great help when life is difficult.

Phil Davenport, Poems over the Phone
Phil was able to support this participant to recall her younger self and husband-to-be appreciating the countryside together. He noted her words and was later able to share the resulting poem with her daughter:
X died a few days ago. I spoke to her daughter, who was shaken but wanted to talk. I've promised that I will send some of X's poems. She wants to read them at the funeral, as a way of hearing her mum's voice once again

Phil Davenport, Project Diary
Phil contained the emotional burden of the project by creating firm boundaries for himself. This further illustrates Phil's level of experience. He instinctively knows the importance of boundaries and has acquired the discipline to implement them; all the more remarkable considering he was often isolated at home, cut off from his usual support networks due to lockdowns.
My role was clear: I made calls for one day a week only. I answered emails on that day and at the end of it I wrote a blog diary piece, or posted participant quotes or poems. Then it ended until the next week. In other words, I could switch off, which is crucial for work like this.

Phil Davenport, Poems over the Phone
Some early career artists in the 'arts and health field' have little awareness or training around boundaries – the very nature of their work requires them to transgress the boundaries of the two sectors they situate themselves between – but there is a risk that they learn by making painful (and possibly harmful) mistakes with little opportunity for support or guidance.
Phil also acknowledged the importance of having support from the commissioning organisation:
It was also crucial that I was not alone. I had an excellent support worker (in Sally Roberts) who had worked with high-risk groups, was never phased, always willing to talk. Sally's unflappable presence was the touchstone I needed. And her organisational support was peerless, which took away the managerial and logistics pressures that would've hung over my head in a self-directed project. If participants needed extra support, befrienders, helplines, calls to the doctor, Sally stepped in. When we spoke, her young daughter would sometimes chip into the conversation with non-sequiturs which ended our calls — occasionally very serious calls — with gales of welcome laughter.

Phil Davenport, Poems over the Phone
When I finally stopped in Spring 2021, I felt like I'd run a marathon — exhausted but also with a sense of achievement. In a grim year of lockdowns, fear and loneliness, a small glimmer showed itself. Independent evaluation showed that people benefitted from the calls. So did I — in this time of the plague, I was able to be useful, by means of (of all things) poetry.

Phil Davenport, Poems over the Phone
Phil Davenport Biography
Phil Davenport is a poet and writer who facilitates creative projects in collaboration with marginalised people, especially homeless people, and older people in healthcare. Phil's work often appears off the page on billboards, objects or recorded on CDs. He creates and exhibits visual poems internationally.
Read Phil's full essay, On A Day of Sorrow- Poems over the Phone here